Shine A Light (Martin Scorsese, 2008)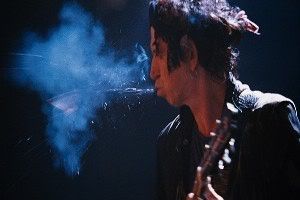 "The truth is, we're both pretty lousy, but together we're better than any 10 others."
-Keith Richards, asked whether he or Ron Wood is the better guitarist
"I love the 'stones, can't believe they're still doing it after all these years. I watch 'em every chance I get...ol' Fred and Barney"
-Steven Wright
In 1968, the Stones and a bunch of other bands recorded a concert for TV called the
Rock and Roll Circus
. After the recording, the Stones were pissed off that The Who had, in their opinion, blown them off the stage, and the show never aired. It sat in a vault until the mid-90's, when it finally got a video release. The Who play "
A Quick One While He's Away
," and they play it with as much flash and fury as any rock band in the world ever could, and when the Stones come on and open with "Jumpin' Jack Flash," you can see where they were coming from. On a straight-up rock n roll song, there's just no way they can keep up with the Who. But then they slip into songs like "Parachute Woman," "No Expectations" and "Sympathy for the Devil," and they start to show off their real strengths, snaking through these slinky, dirty blues riffs. And you know what? They stomp the shit outa the Who.
And this has been a consistent truth about the Stones: in a live show, they suck at the straight-up rockers that begin and end their sets, but they shine on the bluesy grooves in the middle. It was true of
Get Yer Ya-Ya's Out
(what's the track that gets played off that album? The sped-up "Street Fightin' Man?" No, it's "Midnight Rambler."), and it was true of the Madison Square Garden concert that aired on HBO a year or so ago. Most of that show was pretty awful, but they sunk right into "Can't You Hear Me Knockin'" and delivered an amazing "Tumblin' Dice," the hilight of the show.
On
Shine a Light
, which is easily the best recorded Stones show since the late 60's days of
Ya-Ya's
,
Circus
and
Gimme Shelter
, and just maybe the best of their whole career, the hilight is "
Champagne and Reefer
" with Buddy Guy. It's not treated as a big event, like you could imagine, say, Eric Clapton playing this song with Buddy Guy, a chance to see two great guitarists side by side. Instead, it's as if Buddy Guy had always been a member of the Rolling Stones. They just slide right into the pocket, and everything just gels. As great as Buddy Guy is, the Stones make him greater, which I think is the idea Keith is getting at in the quote at the top of this post. None of the Stones are crackerjack aces at their instruments, but together, they're a BAND.
(I'd also point out that the cameras at this show were manned by half a dozen Oscar-winning cinematographers, and if you think "who cares?", look at that moment where Keith spits out his cigarette in a cloud of sparks and smoke. Think of the skill and precision needed to capture that moment, to get the shudder speed or whatever it is...see, I don't even know the words to talk about it.)
"Tumbling Dice" isn't quite as good here as it was at that MSG show, but it's still fantastic. Whereas, at MSG, they were right down in that groove, here they're riding on top of it, partying to their own music, as if their favorite song had just come on the radio. And Mick sure does move for his age. If I tried to dance like that...hell, if I moved as much as Ronnie does on that song, I'd be out of breath!
For most of my life, I've thought of the Stones as "too old." Dinosaurs that should have retired long ago. As they slid from being "still great, but not as great as they once were" (
Goat's Head Soup
through
Some Girls
- note that even this period was ancient history by the time I started listening to rock music) to "not great, but still good (
Emotional Rescue
[which gets a bad rap because of the awful title track] through
Undercover
), to just lame but if you look for it, you can find some OK stuff buried on their albums (from
Dirty Work
on), they increasingly looked not just irrelevent, but pathetic, and the conventional wisdom that they "should have called it quits after___________(insert name of last good album,
Some Girls
or
Tatoo You
or whatever) became accepted as fact. But now, something has happened. They've come out of the other end of the "too old" tunnel. There's no point in putting up an argument--they are self-evidently old men--but they've entered the realm of B.B King or Willie Nelson, whose music actually gains a sense of gravity from their age. Last year, I rented a John Lee Hooker video anthology from the library. I'd seen plenty of footage of JLH, but I'd never seen
footage of him as a young man
. And you know what? It's not as good! His voice doesn't have that gruff authority, just as his face isn't lined with hard-earned wrinkles and crags, the same crags you see on Keith and Ronnie's faces in
Shine a Light
. They're too old to be a great rock and roll band, but they're perfect as folk legends (and with a little historical distance, it all becomes folk music). I don't expect them to ever record an album half as good as
Exile on Main Street
again, but as a live band, they might be entering their golden age.